You asked, we listened.  Our enterprise users have often asked about insurance coverage for Staf users. Now, ShortStaf has partnered with Bunker to provide Occupational Accident Insurance to our Staf users, every time they work. Bunker allows us to cover our independent contractors in the event of injury during shifts worked on the ShortStaf App. OAI is automatically provided to all Staf users on the platform and enrollment is not required. Staf are covered by benefits while working any shift on the ShortStaf App, at no additional cost to you.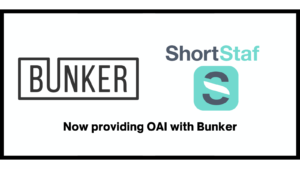 Questions? We have answers.
Why OAI?
Having workers always comes with liability. Accidents, injuries, damage to equipment and
machinery aren't something any company hopes to have to deal with, but even the most skilled workers, and the safest workplaces, can fall victim to one of these mishaps.
Occupational accident insurance (OAI) is similar to workers' compensation in that it covers
medical expenses for accidental injuries on the job, related benefits associated with fatalities on the job and, depending in the insurance provider, loss of wages. As the gig economy continues to grow, ShortStaf is now offering Occupational Accident Insurance as a part of our staffing platform.
Contractors aren't eligible for workers' compensation, but that doesn't make them any less
likely to suffer debilitating injuries and medical costs. If an independent worker is hurt on the
job, they would have to rely on health insurance, which they may or may not have, as it isn't
provided by an employer. Furthermore, some health insurance policies don't cover workplace injuries in all cases, meaning they could be left to fend for themselves either way. OAI provides that extra level of protection in these situations.
How do I know my Staf are covered?
Every single Staf is covered, every single shift. When you hire Staf on the ShortStaf App, they
are provided with Occupational Accident Insurance. They automatically are provided with these benefits during their time working a shift. No enrollment is required.
 
How much does this cost the Host?
 
Staf are provided with these OAI benefits at no additional cost to the Host.
 
How much does this cost the Staf?
 
ShortStaf does not charge the Staf for the Occupational Accident Insurance provided through Bunker. Staf are automatically provided with OAI, at no additional cost.
For additional questions, contact: info@shortstaf.com
For more information, ideas, recipes, and more: visit our blog or check out our Pinterest page. 
https://www.shortstaf.com/wp-content/uploads/2021/06/bunker-blog-header-1.png
900
1600
Spencer Englander
https://shortstaf.com/wp-content/uploads/2018/08/logo.png
Spencer Englander
2021-06-28 13:45:41
2023-09-22 13:38:42
OAI: ShortStaf and Bunker